Best Android apps to backup your photos, videos, contact, messages and important files.
What is data backup?
In information technology backing up data refers to the copying of data into an archive file of computer or system data. It can be used for restoring the original data after an accidental data loss.
Backup data have two purposes. The primary purpose of backup is to restore data due to permanent deletion or corruption of storage files as well as the storage devices where the data is stored. The secondary purpose is to recover data from the earlier time.
Why is data backup important?
One should always backup there important data, and actually when the data files are precious memories in form of images and videos. Although we never wanted our important data to be lost, it happens accidentally. And we should take precautions before an accident happens so backing up of data is a precaution. Through that, you can restore deleted files in your phone computer storage.
In the growing technology world, we have plenty of solutions to prevent data loss. We are so attached to our phone. We have so much important data stored on our phone and we really never wanted to lose our phone data in any way. In every memorable moment, we capture our precious moments with our loved one. Not only we have priceless data but also confidential important messages, information, documents stored in our phone memory. Losing it really have the great impact on business and as well as the job.
How to backup phone data?
Here I am going to tell you about best apps to backup your phone data, these apps are really very helpful recovering your lost data happens due to accidental damage to the device, device is stolen etc.
Now forget all worries of losing data because these apps will backup your important data and let you restore it with no extra effort.
#Mybackup App
mybackup app is the most reliable and best app available free for Android devices. It is the feature-packed Android backup solution available for no price to pay.

Mybackup app free features:
backup stored in your device or sd card both.
you can backup and restore using an OTG, to external pen drives or other USB storages devices.
cloud backup
multiple back-ups supported
backup everything photos, music, videos, text, doc file, messages etc.
my backup pro version is also available, which is not free. but you can unlock its pro features which is obviously better than the free version.
#Helium backup
Helium – app sync and backup is the second best android app available for free. helium is the missing app sync and backup solution trick for android devices. It does not require root so it more safe as comparing to others.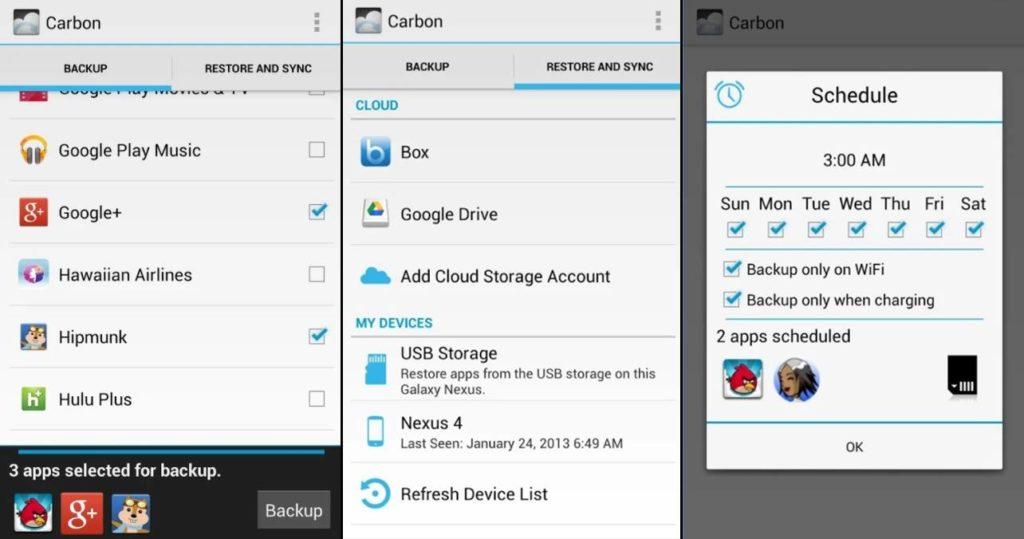 Helium backup app free Features:
backup an restore to sd card and as well as pc.
helium backup is root free application. so it has limited free features available. but you
can unlock it pro features by downloading the helium premium app.
helium premium is also available which is not free as well, helium premium version is ad-free.
#List my apps
This is another app which is different from most other backup apps. It does not store the data instead it backups the reference of the list of apps and let you download in recovery. This app is helpful for those who don't have big storage on their phones. it is the most simple and user-friendly app.

#Titanium backup
This is one the best apps and also my favorite backup app. it allows the around phone user to fully backup the Android device. titanium backup app only supports rooted device, it needs root privilege to backup and restores data. this app also available with the paid version. which obviously have more features than the standard one.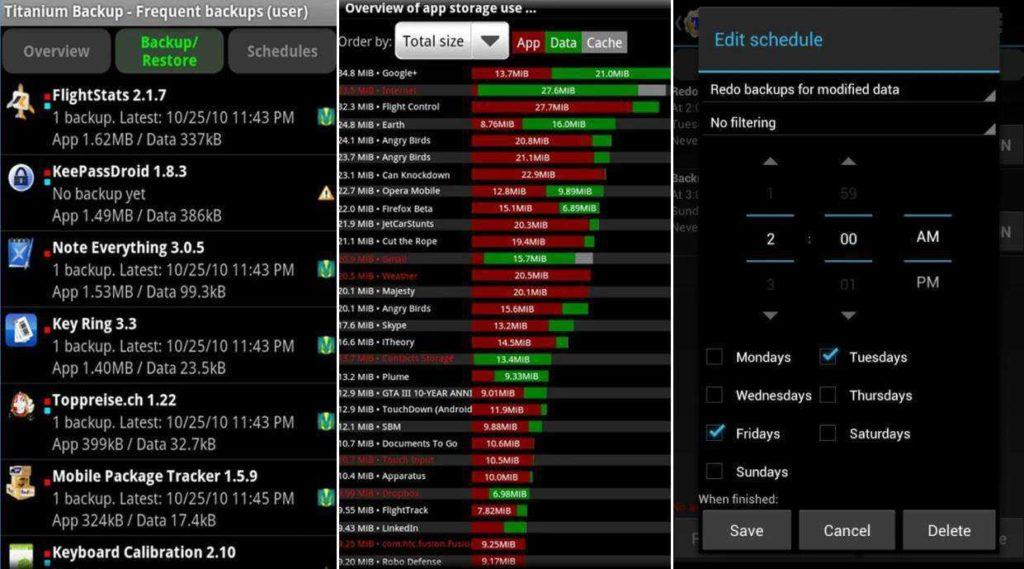 titanium backup app Features:
save a filter and use it in schedules.
you can change the android id, also restore it from a backup.
lock the backup, in case of accidental deletion of the backup
freeze, defrost, apps in the single tap.
You can also download Titanium Backup Pro Apk for free.
G cloud backup:
G cloud backup app is very popular app amoung android users. it enables users fro storing all data on online storge. which is helpful for users having the less storage issue. this backup app lets users to store backup data up to limit of 1GB with 25AES encryption data security to secure your android device data backup.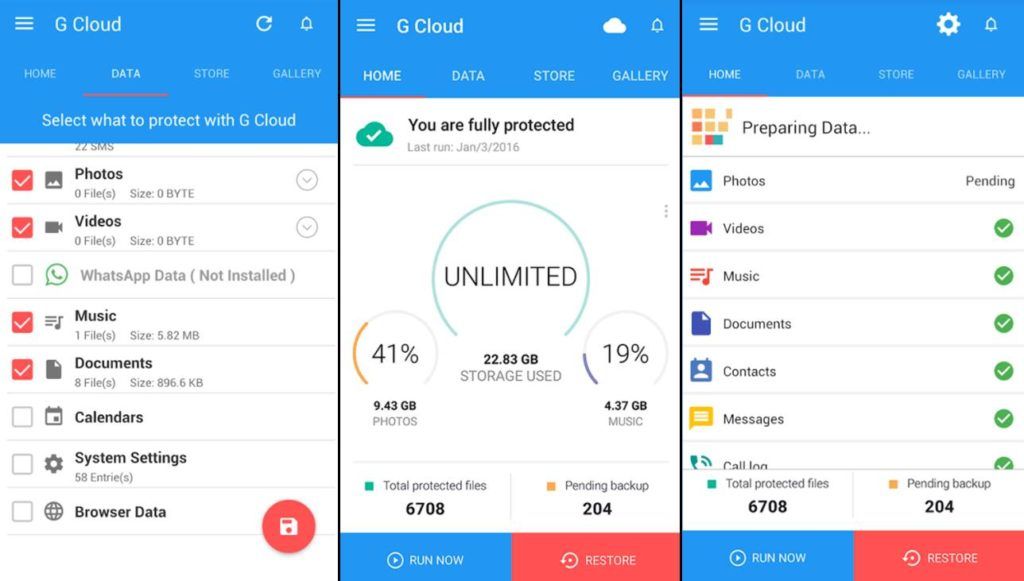 G cloud backup app features:
Auto backup of messages, contacts, call logs, documents, system settings, photos, video etc.
automatic upload when WiFi is availble.
users can acces backup data such as messegees, calls logs, contacts, phots, videos and music etc. on the web online.
Dropbox:
It is the most polular and well known by most of the people using the Android device. It is safe than other application available. it is the most rrusted back up tool app avaible free on google play store.
Dropbox features:
you can edit microsoft office files from your phone or tablet.
you can choose to set automatc backup of files.
it enables users to send large files wiithout using enal attachments.
Ultimate backup:
Ultimate backup and restore pro is also one of the best backup app available in the Goolge play store.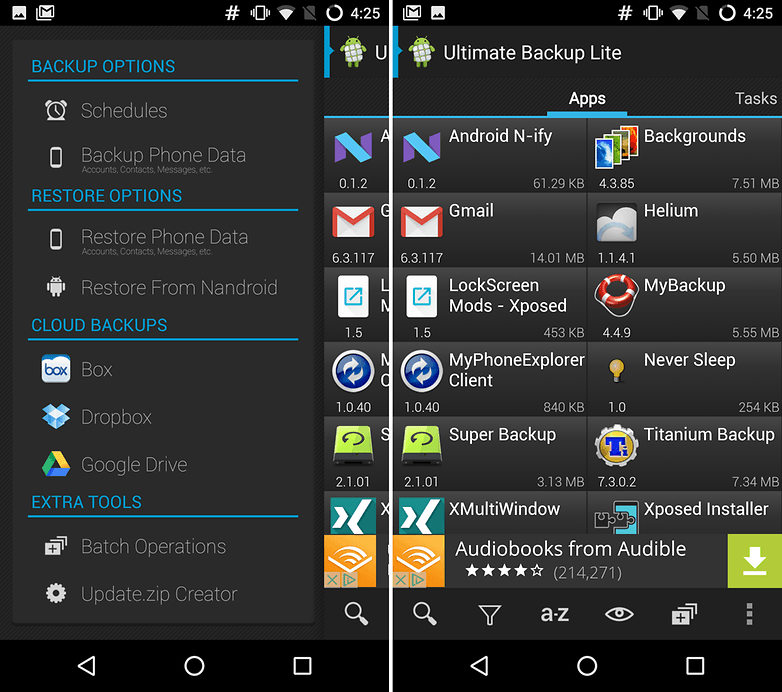 Ultimate backup features:
This app backup your personal data securly.
This app will backup your desred data into apk file and lets you share it with other users android devices.